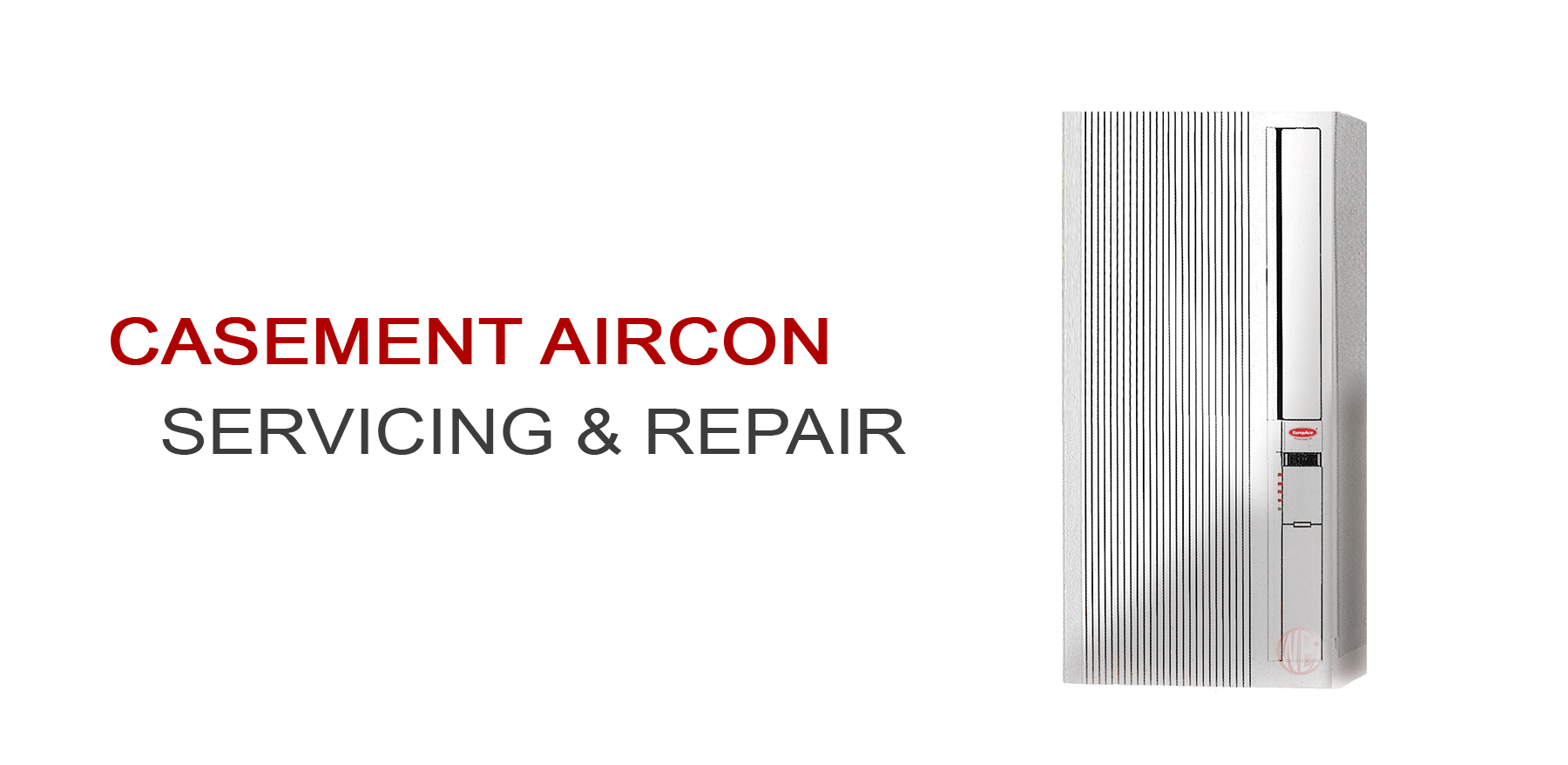 Casement Aircon Servicing and Repair Company
If you are living in Singapore, you would be familiar with casement aircon, also commonly known as window aircon. It is common to find casement aircon installed in HDB flats, Condominiums, and even schools due to its flexibility. With our years of experience and well-trained staff in various types of aircon, we are able to provide quality casement aircon servicing and repair in Singapore. With the hot weather in Singapore, you should ensure that your units are serviced and maintained by professionals. In the event that you are faced with aircon problems, including water leaking or aircon not working, you should immediately call for a casement aircon repair company to rectify the problem.
It is one of the popular type of air-conditioning system among Singapore households due to its flexibility and most importantly, able to provide cooling air. In Singapore, there are a several brands which come with different specifications and features. Aircon has been one of the common electrical appliance in Singapore due to the hot climate. However, many are not aware of the importance of engaging regular servicing. Do not worry if you are facing issues such as aircon leaking or not cold as it is one of the common problems faced by households in Singapore.
Casement Aircon Servicing
Casement aircon is similar to any other type of air-conditioners where regular maintenance are required to upkeep the condition and performance of the units, ensuring they are in good working condition. By servicing casement aircon regularly will keep your units clean and ensure they are working in top-notch condition. It will also sure the units will be able to provide cooling air in your room. We also provide aircon chemical wash for casement aircon, which is a more thorough and effective service to keep your unit in good working condition.
During routine servicing, our technicians will also perform checks to ensure that your units are in good condition. If there are any issues, it will be rectified by our staff.
Casement Aircon Repair
Do you face any problems with your unit such as aircon not cold or water leaking issue? There are many different types of problems that your unit could be experiencing. However, do not worry as we are able to repair casement aircon in Singapore and rectify the problem for you. We are able to perform repairs jobs for your casement unit and regain its functionality and operations with our experienced aircon technicians.
There are times where households ignore the problems surfacing from their unit. It could eventually lead to worsening of the problem. Hence, you should always call for professionals when you are facing problems with your casement aircon.
Pros and Cons of Casement Aircon
There are pros and cons when you decided to opt for a casement unit. A casement aircon is able to provide you with a wide range of choices, less hassle and also a competitive price. Different brands have their own unique features and functions that are available in Singapore, giving consumers more options.
Despite the compact size, the cooling capacity of the unit is able to cool down a room. However, it is still dependable on the size of your room as well as other factors. The efficiency of the cooling power is able to provide basic cooling needs in Singapore. This is another reason why this type of unit is popular among consumers in Singapore.
Flexibility of the location is another reason why consumers chosen it. One of the advantages is the placement of the unit, commonly in windows. By positioning the unit in an area could produce a great cooling effect to the room.
Despite the pros, there are cons as well. Despite its flexibility and size, it may look aesthetically unpleasing as you are restricted in the space to install the unit. Functionality may not be a big issue, but the appearance is definitely least appealing when compared to other type of aircon units.
Reliable Casement Aircon Repair and Service Company
It is important to engage professional company to service your units regularly. This could remove the dirt, dust and even bacteria that could accumulate in your unit. If your units is not being maintained well, you could face many different problems mentioned earlier. If you encounter such problems or looking for casement aircon repair or servicing in Singapore, feel free give Wei Wei Air-Con a call and reach out to our staff.