Having an air-conditioner in your office is important in Singapore, with the hot and humid weather. Similar to other premises, regular servicing and maintenance of office aircon in Singapore is equally important as well. There are many different factors that you should consider when installing an office aircon in Singapore. These factors include the long-term maintenance, cooling performance, space required, energy efficiency, and also the price. We will go through some of these tips that will help you in selecting your office aircon in Singapore.
Creating a productive workplace
Studies have shown that reducing heat stress would improve productivity in the workplace. Thus, it is important to ensure a cooling and comfortable environment in the office if you want to maximise the productivity of your employees and ensure their well-being is taken care of. With the hot climate in Singapore, the heat would increase the indoor temperature and air-conditioning is necessary to cool down the office. When choosing your office aircon, you could consider getting units with wide features where it could meet the varying cooling preferences among the users. Also, it is also important that the environment is neither extremely warm nor extremely cold, as both are not desirable and would affect the comfort level of the employees. By taking care of these, it will allow them to work under the best conducive environment in the office.
If your office is expected to expand and requires large workspace in the building, you could consider commercial type air-conditioning system. This type of air-conditioning system is ideal for large area such as in the medical or labs work sector, which are different from the VRV air-conditioning system. If you have an average office space and looking for great and ease in office aircon maintenance, you can settle with a VRF or VRV air-conditioning system. There are many benefits of having this air-conditioner system for your office space, including connecting several air-conditioning units and control features individually for each area or room. This will ensure different desired temperature could be achieved without affecting the other office space.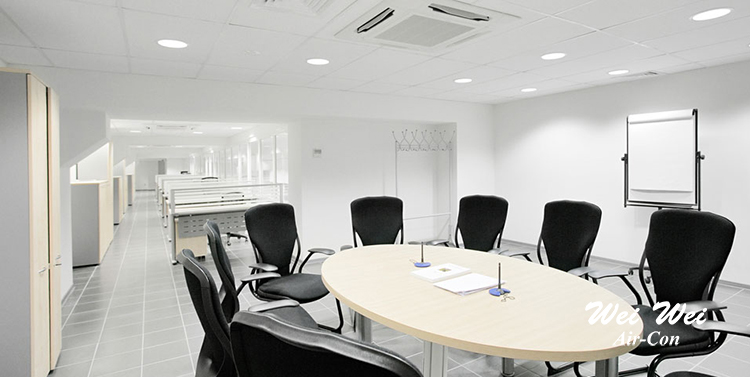 Aircon Maintenance and servicing
Aircon maintenance and servicing on your office aircon is also one of the factors that you ought to consider when deciding the aircon for your office in Singapore. You should always ensure there are reliable aircon company in Singapore that are able to provide the best quarterly aircon maintenance for your office. This will ensure your office aircon are taken care professionally by the maintenance team, which specialise in the type and brand of your air-conditioning system.  This preventive maintenance will ensure optimal operation of the system and prevent unnecessary repair that could be due to the lack of maintenance. It would also help you to save money and ensure your units are working in good condition.
Cost savings
Any business would want to achieve cost savings during the operations of the business. Thus, when discussing about cost savings, the commercial air-conditioner price for your office should be considered in this case. In this situation, a VRF aircon system would be less expensive as compared to other commercial type air-conditioner system. It is also important to consider the long-term office aircon maintenance in Singapore, as it could differ depending on the type of air-conditioning system you install.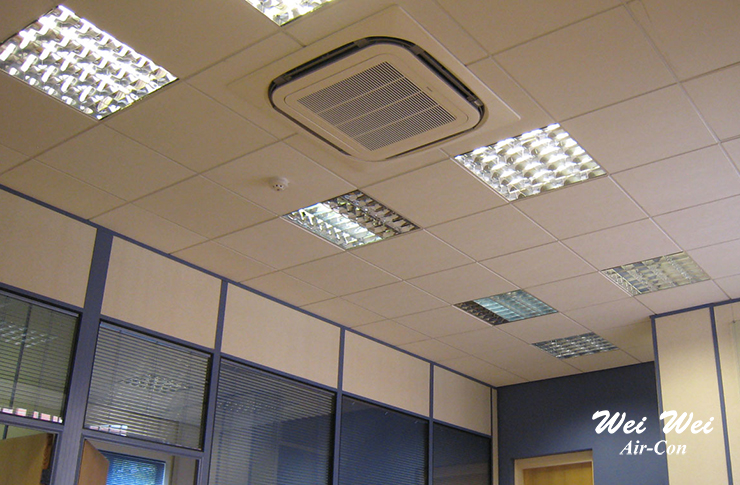 Efficiency
With the average office operation of 8 hours per day, the operation efficiency of the units is important and should be considered when choosing your unit. Thus, it is important to take note of the efficiency of the unit when choosing your office aircon. Your office aircon should be efficient in the cooling performance as well as being energy efficient. However, this efficiency would depend on the type as well as the brand and model you are selecting. The price would also vary depending on the features that are equipped in the air-conditioner.
Appliances and equipment in the office
In a typical office environment, it would be equipped with many electrical appliances such as computers, monitors, servers or other technological machinery depending on the sector. Al these appliances and machinery generates heat during operation and it could increase the temperature in the office. These equipment and devices work best in a cool environment. Thus, when choosing the air-conditioner for your office, it is important to take note of this and ensure the unit is capable of cooling down the office as well as these equipment is able to function properly. This would also prevent any overheat issues which could result in additional cost on these appliances or devices. Hence, always plan the office space and the appliances and equipment that will be installed in the area and ensure the office air-conditioner would be capable of cooling down your space.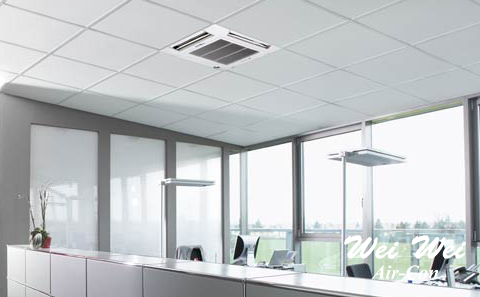 Clean air quality
Having an office aircon that provides cooling environment is not enough. Another factor to consider is the air quality in your office. You should ensure that the office air-conditioner are equipped with features that ensure clean air quality for your employees. Considering an average of 8 working hours in the office each day, this will ensure the well-being of your employees are taken care of when they are working in the office. There are several office air-conditioning systems that are equipped with air purifying features that could improve the air quality in the office through removing the impurities found in the air. It will prevent potential germs spreading around the office, which could result in illness among the employees. This is also important for employees with existing medical illness such as allergens or asthma issues, where a clean air quality would allow them to work in a clean environment.
When selecting your office air-conditioner, always look out for the features in regards to the air quality such as whether the system is able to capture dirty particles in the air including allergens and microscopic particles that could be harmful to breathe in. The humid atmosphere in Singapore results in regular usage of air-conditioning and ensuring a good air quality is important. It will also prevent the build-up of such allergens in the office space.
Office space constraints
With the limited land size in Singapore, business often plan the interior layout to maximise the office area. However, if you are facing space constraints in your office area, you could select different types of air-conditioner which could be attached to the ceiling, giving you a sleek design without compromising the space which could be used for additional storage purpose.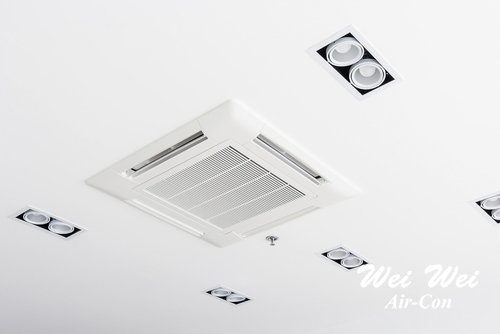 At Wei Wei Air-Con Engineering Pte Ltd, we provide affordable aircon servicing, maintenance, repair for your office aircon, including commercial and residential premises. We have well-trained team of technicians that are equipped with the knowledge and skills to fix your problems. If you are looking for aircon maintenance contract, servicing or repair for your office, feel free to send us your enquiry and we will assist you.