Air-conditioner plays an important role for people living in Singapore to keep us cool, but it could take up high electricity consumption at the same time. There are many other important tips that you should take note while using your air-conditioner, such as frequent aircon cleaning and maintenance. What if we told you that you could save on your electricity bills while continue using your air-conditioner?
With the hot and humid weather in Singapore, we could see air-conditioning system being installed everywhere in Singapore, from households, offices, schools and shopping malls. It is already part of our daily life. Aircon energy saving is important, where long air-conditioner usage could increase our energy bills. However, if we were to switch it off, it makes us feel extremely uncomfortable and some may not even fall asleep without it.
In Singapore, a high percentage of monthly electricity consumption and expense actually comes from the air-conditioning system among the other consumption such as water supply and other electrical bills. You may not believe, but there are tips that actually you could use to reduce your aircon bills without sacrificing your regular air-conditioning usage.
Reducing air-conditioning usage efficiently
By reducing your air-conditioning usage, it implies that the unit will require less energy to work. There is a tip in it, where you could reduce your usage, while still enjoying the cooling environment in your room or office. You can simply set timers for your unit where it will operate for a period of time and it will reach your desired coolness for a certain amount of time. You could also leave your air-conditioning turned on for a period of time and change it to a fan instead. This will ensure that the cooling level desired in the room is maintained and the fan would circulate the cooling air around the room. This will ensure that you can continue to enjoy the coolness at the desired temperature and allowing you to relax without suffering from the hot and humid weather.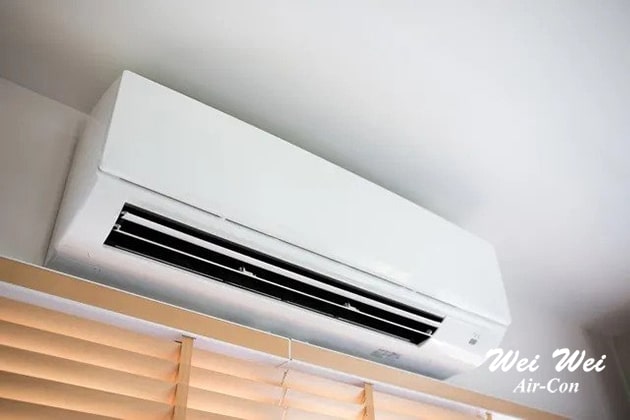 Periodic aircon servicing
With periodic servicing for your air-conditioner, it will help your air-conditioner to operate at tip top condition. Regular aircon servicing is important in Singapore as we tend to have higher usage than other countries due to the hot climate. Regular servicing will be beneficial not only in areas of energy savings, but also prevent your units from major problems such as breakdown. With the increase of usage, maintenance becomes essential to ensure optimal performance in cooling and operation. Air-conditioner works like other machinery where it will experience wear and tear and servicing becomes mandatory. It will reduce the possibility of unnecessary repair if regular maintenance are being carried out. The lack of such maintenance result in poor performance in cooling and this will subsequently result in poor performance in energy saving and result in higher electricity bills.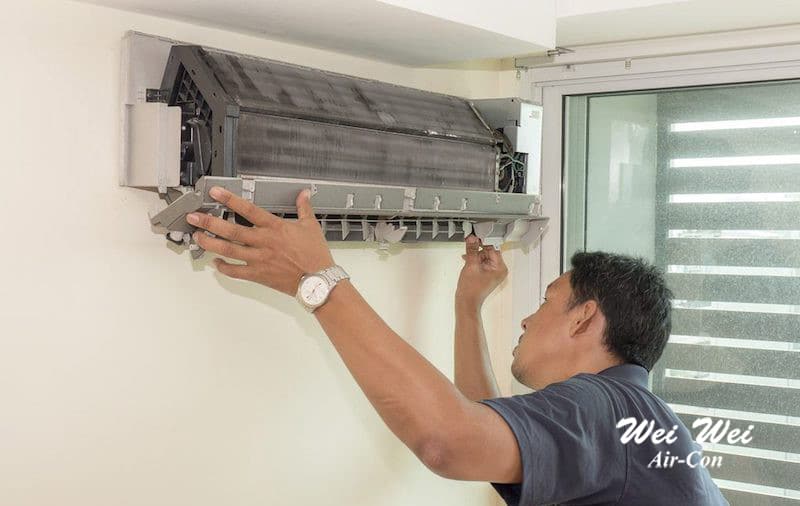 Limit direct sunlight exposure
Depending on your home design and style, some may incorporate large glass panels on their windows to increase the daylight exposure into their rooms. This may attract better light exposure, but at the same time, it attracts heat into the house as well. This generally increases the heat in your room and requires additional work from the air-conditioner to cool down your room to the desired temperature. One way that you could save your aircon energy used is by blocking the sunlight from entering into the room. You could install blinds or use blockout curtains across the windows in your house. This could significantly reduce the light exposure into the house, but it also reduces your energy consumption from your cooling system. You can still use the same approach, but only when you want to cool down your room or when you switch on your air-conditioner. This will limit the heat from the sunlight and will increase the efficiency during the cooling process.
You could also use thin curtains which have some transparency. This could be a hassle to you as you would need another thicker curtain to completely block out the sunlight. However, if sun exposure is really important to you, you could install another layer of thin curtain, so that there is some light exposure, and at the same time minimize the amount of heat entering. There are also other alternatives that could lighten up your house and have some light blockage as well, such as putting large leaf plants near the window. Not only the plant could enjoy the sunlight, the large leaves are able to block or absorb some heat as well. It may not be as effective as blockout curtains, but if you want your house to have some modern design and lighten up your space, this could be a good option.
Another alternative that you could consider if you don't like to install curtains or blinds on your window, you could tint the windows. Depending on the quality and material, there are some effective tints that could block as much as 80% heat from the sunlight, without compromising the light exposure. This is suitable for households who really wants to block out the heat, but do not want to compromise the natural daylight.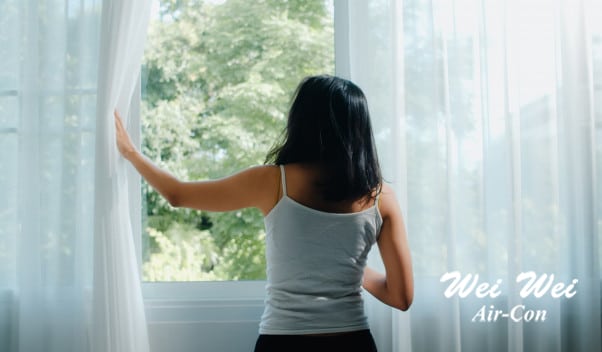 Installing reputable and energy efficient air-conditioner
If you have been purchasing electrical appliances for the last few years, you would have observed about the energy saving ticks in an air-conditioner or other electrical appliances. Similar to other electrical appliances, there are indication of the energy saving ticks for the different units. The more ticks the air-conditioner has, the better energy efficiency in the Singapore market and 1 tick is the minimal energy efficient. Higher tickers indicate the air-conditioner has better energy efficiency and through the usage of your units, you will be able to save on your electricity bills in the long run.
Another point you should look out for is purchasing for a reputable air-conditioner brand. With a wide range of brands in Singapore market, you may be spoilt for choices. You may purely look out for the cheapest price tag when selecting your unit, but it may not be wise in the long run, taking many other factors into consideration and energy efficient is one of it. A better reputable brand could cost you more at the start, but a lower quality brand may cost you more in the future as it may be prone to breakdown problems. It will also cost you the hassle of calling in a repair company to fix your unit repeatedly. If you feel that these energy saving tips are not sufficient and want to save more money, there are other tips to save money on your air-conditioner in Singapore.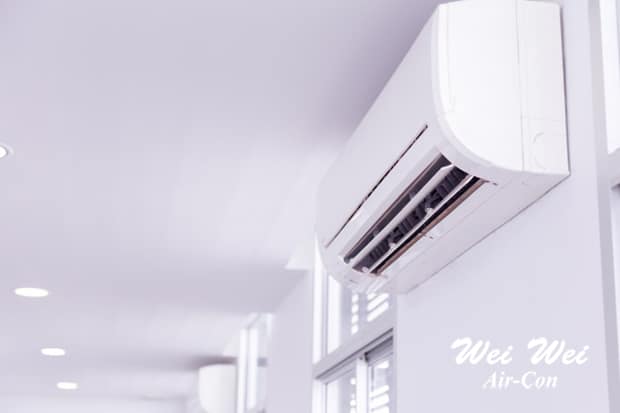 At Wei Wei Air-Con Engineering Pte Ltd, we are able to provide a wide range of aircon services in Singapore including aircon servicing and maintenance servicing contract that are able to cater to your needs. Feel free to contact us to find out more about our services by calling us at +65 6567 7698 or by filling up the contact form.