Most air-conditioner in Singapore works fine where they are able to withstand the hot climate in Singapore and continue to provide cooling environment to households and office. However, they are similar to vehicles where it is inevitable that there will be signs that shows you need aircon servicing in Singapore. People always fail to spot or simply ignore the fact that their air-conditioner requires care and regular maintenance in order to perform at good working condition. We will go through some of the common signs that you can look out for.
1. Unpleasant / Smelly Smell from the Aircon
Among other problems, smelly aircon is one of the common issue people faced in Singapore. This is due to the hot and humid weather in Singapore, resulting in accelerate of dirt, mold and bacteria grow in such environment. There are numerous reasons that cause your air-conditioner to emit such bad smells. It could be due to decomposed bugs, or other insects or species that could be trapped inside the unit and the decomposing result in such awful smell. Another possible reason why you could experience smelly aircon is due to leaking coolants in the system. With the weather in Singapore, the house or room get humid and stuffy easily and result the growth of those molds or smelly substances. These issues signals that getting the best aircon servicing company in Singapore to service your unit is essential to get rid of such smell that build-up around your unit. Thus, it is better to solve all these problems before it gets any worsen and could pose possible threats to your health. This is even crucial to people who have existing medical issues such as asthma, sensitive skin conditions and more.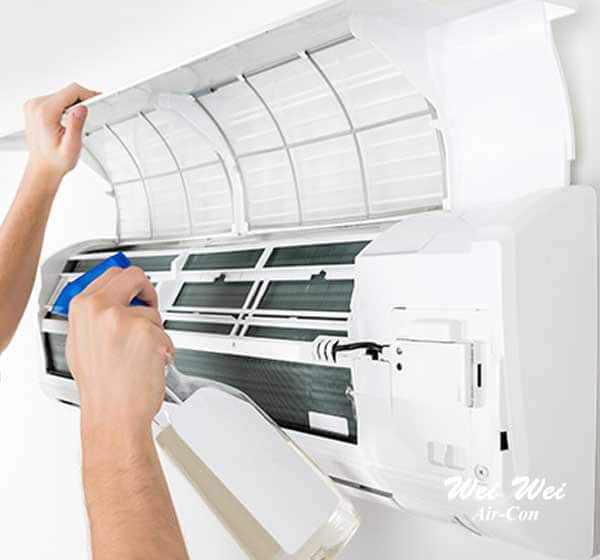 2. Weird Sound
A decent air-conditioning unit should operate smoothly without producing any sound or noise. When a unit is running, depending on the speed and temperature, there would be some variations on the sound level at minimal. However, if you hear some other noises that are unusual, such as squeaking noises in your air-conditioner system. This could signal potential problems in your air-conditioner and it requires a servicing to allow technicians to check on your air-conditioner system and see how they could find the root cause of the issue. Thus, fixing the issue rapidly and prevent it from worsening and leading it into a bigger problem that could result in additional cost.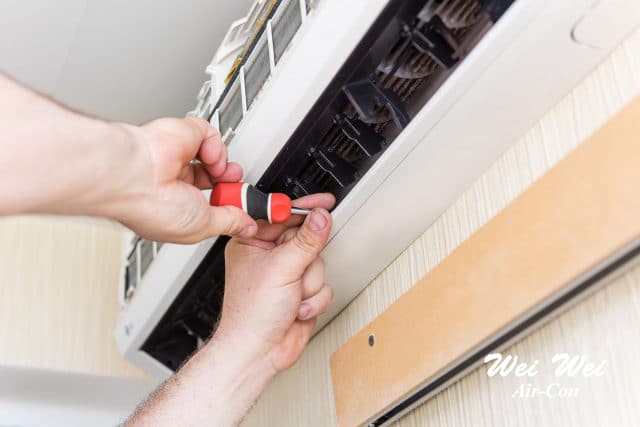 3. Aircon cooling level
Probably one of the easiest ways that you can spot if you require air-conditioning servicing would be to observe how long does your unit cool down your apartment. If you find it that it took longer time to cool down your room as before, it could be the sign of failing cooling performance and this is the sign that you need to engage a reliable service company in Singapore. By engaging experts to check on your air-conditioner unit, they will be able to check the condition of your unit and resolve your issue for you.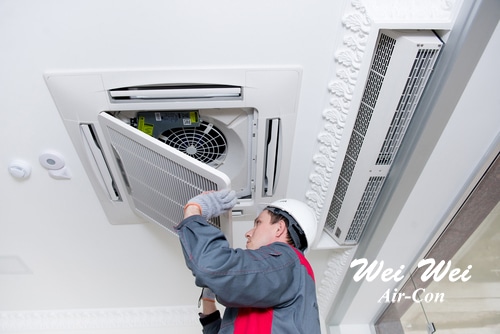 4. Aircon turning on/off unexpectedly
Did you experience similar situation where your aircon suddenly switched on and off when it is cool and then again repeatedly during the night? This is dependable on the air-conditioning system that you have in your home or office. This shows that your aircon requires servicing which could lead to the above on/off problem happening. Other than that, it could also contribute by other problems in the air-conditioning system that requires checks and repair. Wei Wei Air-Con Engineering Pte Ltd is one of the reliable service companies in Singapore and we are able to help you to repair your aircon back to good working condition. Thus, if you face the above problems, always try to engage an expert to assess your unit and get it fixed immediately.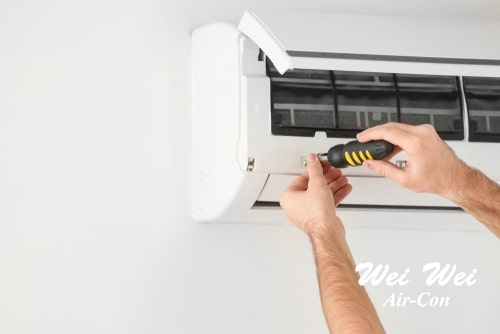 5. Higher power consumption
If you are living in Singapore, in the same apartment for years, you should have a rough estimate of the amount you pay for your electricity bills each month. If for a particular month, you noticed that the bills increase above the average bills that you could incur, you should recall the heavy electrical consumption appliances that you have used during the month. If there are no particular appliances except air-conditioner, it could show signs that there are faulty or components are under-performing, which result in the inefficient use of power in the system. It is advisable to engage a servicing and maintenance company in Singapore to assess the condition and provide a check on the unit. This will ensure the necessary steps are taken to understand the root cause and prevent you from incurring additional electricity cost that could be avoided.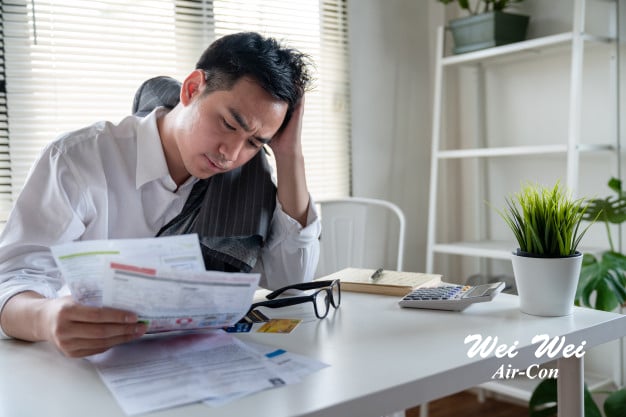 6. Unable to turn on the aircon
There are times where air-conditioning will go off after running when the temperature is cool, while continuing to operate perfectly. But if you are facing aircon problems where you can turn on your aircon by all means. This could show signs that you need to engage a service company to check your air-conditioner and prevent any further harm that could worsen your air-conditioner system. It is not advisable to try and fix it yourself as the complication of the system could lead to electrical hazard that could cause you and your family danger in this situation. Always pick up the phone and call for experienced company that are able to service and fix your unit.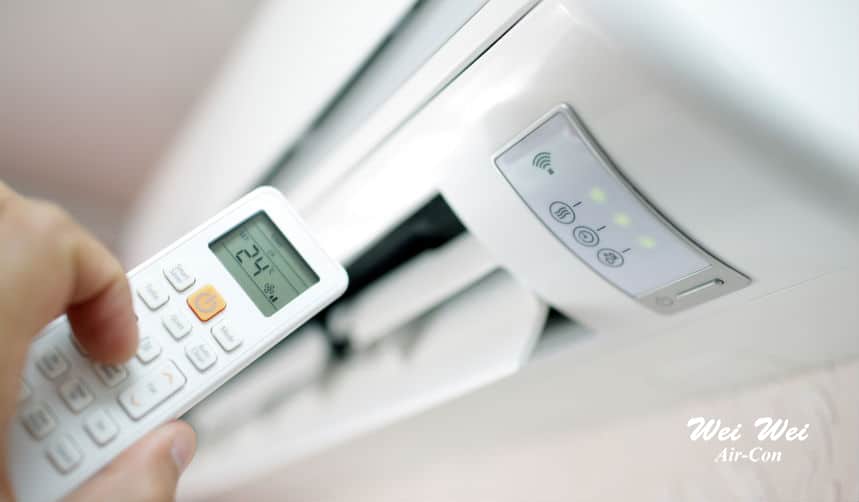 Benefits of aircon servicing in Singapore & the common problems faced
The information below shows some of the benefits of regular servicing in Singapore as well as the common aircon problems faced by households. You may even experience some of these problems before in your home or office. Scroll down to find out more.

Always be alert when you are observing your air-conditioner unit so that you are aware of your air-conditioner condition and able to treat the unit with care. It is also important to know how long you should service your aircon in Singapore in order to take good care of your units. Don't fail to capture any moment that could save your unit from breakdown issues. Remember that prevention is always better than cure. Make sure that you always get your unit serviced regularly and prevent any problems from worsening as that could cost you additional repair cost to fix it. Always get a reputable air-conditioning company in Singapore that are experienced and with well-trained technicians to fix and solve your problems efficiently. You can reach out to us at +65 6567 7698 or send an email by filling up your information.