Singapore is a very hot and humid environment, especially during summer, these months are slightly hotter than other months. There are plenty of times you are able to go outdoors to exercise and enjoying outdoor activities with your family. However, make sure that you always stay hydrated and keep yourself cool. A functioning air-conditioner in Singapore is important as it helps you to keep yourself cool in such hot climate.
Observing any signs that signals your air-conditioning not operating well is important and you should call for an aircon repair company in Singapore immediately to get it repair efficiently. This is to ensure proper functioning of your units. There are symptoms or signs for repair which may not be easily observed at the start. Thus, you will be better prepared to distinguish such signs if you aware of such common signs beforehand. This will help you to know that repair service is required and allow you get the expert and fix it before the problem worsen.
1. Hot air
At the point when you feel that your air-conditioner is not cooling and is blowing hot air out, this signals that your air-conditioner is facing some problems. If the problem still persists and blowing hot air, you will need to call for repair company to check on your air-conditioner and perform repair service to get your air-conditioner back to function and providing you cool air. We recommend leaving repair service to the professional rather than attempting to fix it yourself. After all, air-conditioning system is complicated and could lead to hazard if it is not handled with care.
2. Weak airflow
Weak airflow is one of a common sign that your air-conditioner is not performing efficiently or there could be blockage that result in insufficient airflow in your system. There could be various reasons that could cause it to happen. However, it is always important to spot such sign before the issue worsen and could harm other components in your air-conditioner and result in additional repair cost. You should always call up for a service expert to look at the condition of your air-conditioner and take appropriate steps to get it resolved. At the same time, perform detailed and thorough check on your air-conditioner, and prevent such issues from happening again.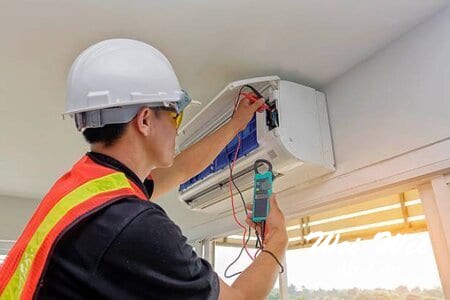 3. Aircon not cold
The most observable sign that you may even experience before is when you can't feel the coolness of your air-conditioning despite it is switched on for hours. This is sometimes frustrating as you thought you could enjoy the cold air, but unable to do so. At this point of time, calling an repair company in Singapore is able to fix the issue for you is the best option.
4. Aircon turn off abruptly
When you are sleeping and in the middle of the night, you find out that your aircon was being turned off suddenly. This is one of the problem people hope they would not face as they would be sweating and suffering for the rest of the night. This definitely signal a call for a repair company to fix your air-conditioner issue, it could be due to various reasons such as faulty system. Make sure to get an expert to check and fix it immediately.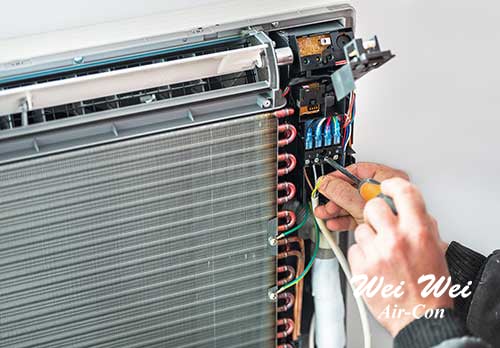 5. Higher electricity consumption
Another sign that you can observe if your air-conditioning is malfunctioning is through your electricity bills for your home or office. If you observe your aircon system and electricity bills and notice that your electricity bills increase with all else remain constant, this could mean you require repair for your units. A malfunctioning air-conditioning unit tends to consume more power than a better performing unit and in the long-run, this could cost you an amount of money. Thus, always check out your electricity bills and if it increases, try to trace it and if it is caused by your air-conditioner.
6. Smelly aircon
There is another function of your air-conditioning system, which is to purify your air in your room. This is often unaware by most consumers, and also differs according to your brand air-conditioner brand such as Daikin, Mitsubishi, Panasonic and more. If you notice the terrible smell coming out from your air-conditioner, you should immediately pick up your phone and call for repair. The smell could be due to leakage in the system of due to the build-up of dirt, debris, molds and even bacteria. You should not treat this issue lightly and should get this fixed immediately. The cause of the smelly aircon is both bad for your health so it is crucial that you get the technicians to look into it and get it resolve in time.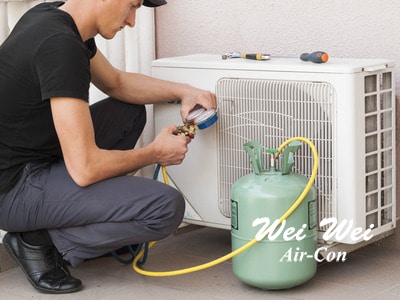 7. Build-up of dirt
You should check around your air-conditioning unit and observe if there are a build-up of dirt around your system. In the event that there is a great deal of residue or dirt around your units, it is time for you to service your air-conditioning. If you do not perform services and delay for a long time, these build-up of dirt and debris could result in repair work in order to regain the original functional unit. You may think that it is acceptable to leave it untouched, however, the complication could lead you to unnecessary repair cost in the future.
If you have any of the common signs listed above, this prompts you to get your unit fix through getting a reliable aircon repair company to come over to your house or office and fix your system. You should keep in mind that problems always started small, and it could worsen and gets out of hand if it is not repaired on time. This could result in further repair expenses that could be avoided if it is fixed earlier.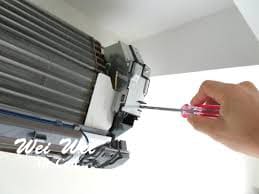 Thus, you could contact us for our repair services and we would put in our best effort to get your air-conditioner fixed by our experienced and well-trained aircon technicians. Our technicians have years of experience in the field and able to repair various air-conditioning brands and type of air-conditioner. Feel free to call us or fill in the contact form if you require any of our services.