With the rising temperature in Singapore, the air-conditioner has been one of the essential appliances that are able to provide us with cooling needs. Everyone in Singapore would require an air-conditioner unit, regardless you are home owners or business owners. You may have come across Panasonic aircon and thinking if it is good in Singapore.
Air-conditioning units have played an important role in Singapore for all premises, residential, commercial and industrial, where it ensures people are able to have a comfortable environment. Depending on the premises you are staying or air-conditioning needs, the types of air-conditioner will differ across different people.
Panasonic is one of the widely chosen brands among the household appliances, including the air-conditioner. It offers the products and services across the world and have won many praises for its products, including quality, hassle-free maintenance, efficient units and many more. Furthermore, Panasonic air-conditioner provides different types of air-conditioning system in Singapore that serve different cooling needs.
When choosing the air-conditioner brand in Singapore, you might find it hard to choose among the many choices available in the market. We are here to share more about Panasonic and their air-conditioner in Singapore.
1. Air Purification System
With the regular air-conditioning usage, together with the hot and humid weather in Singapore, many air-conditioners may start to emit an unpleasant smell. This is often due to the build-up of mold, dirty substances and bacteria that grow within the units. This is also why regular Panasonic aircon servicing of your air-conditioning units is important as it will help to maintain and clean your units. With the air purification system in Panasonic air-conditioner, you would not have to be too worried about this issue as it would reduce the possibilities of such smelly air problem. It will enable your air-conditioner to produce a clean and cool air in your room or office. However, keep in mind that regular maintenance is still necessary to ensure proper functioning and ensure the units is in good working condition.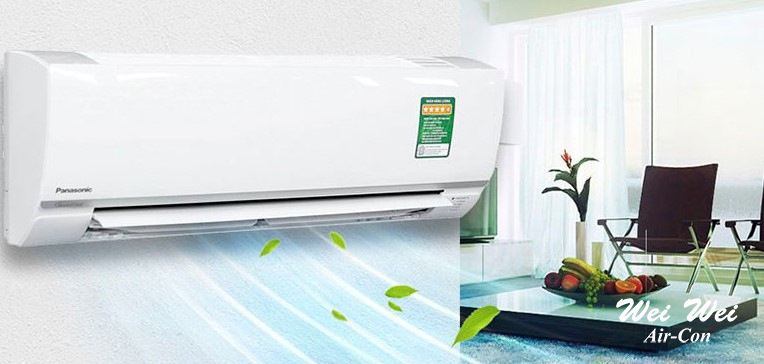 2. Quiet operation
Regardless, you are in the office or home, a noisy air-conditioner is definitely irritating and could affect a person's mood anytime. There are many negative effects from a noisy unit such as affecting sleep quality, unable to concentrate and possible frustration. The noise could vary from buzzing to loud banging sound depending on the design or issues faced on the air-conditioner. This could also be signs that you require servicing for your air-conditioner. With the design of the Panasonic air-conditioner, it reduces such issues from occurring. The air-conditioner system is able to operate quietly during the operation and you might not even realise that the units are being turned on. With the additional new features, you are able to enjoy such quietness in your air-conditioner with a simple press. The lower level of noise allows people who are especially sensitive to noise, to be able to enjoy the cooling air and preventing the noise from disturbing them. The level of innovation on reducing the noise level is very impressive, especially during night where it gets really quiet.

3. Energy Efficient
With the range of products in the Panasonic, it is constantly innovating and improving the quality of their products, including their air-conditioner. One area Panasonic air-conditioner have significant improvement would be their energy efficiency, where it aims to reduce customer energy bills with its improved efficiency. Some may be reluctant to purchase an air-conditioner for their home and switch to fans due to the high power consumption. This could add up to a significant amount of energy bills every month with the constant usage of air-conditioning system in your home or office. With the Panasonic air-conditioner, you will enjoy greater energy efficiency and able to save money while using the units. Despite that, if you are looking to save more energy for your air-conditioning, there are some useful energy saving tips that you can follow and learn. Together with these tips and an efficient Panasonic air-conditioning, your units will consume less energy and enjoy the same level of coolness.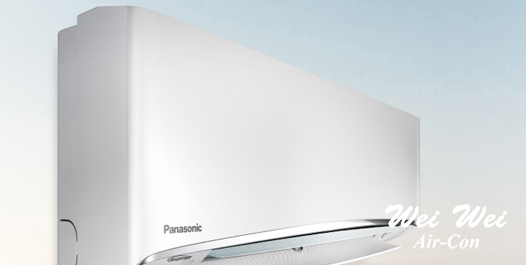 4. Low maintenance
Some may feel the pain of having to deal with air-conditioner problems despite installing a new air-conditioner. On the other hand, people could spend an amount of money repairing their units and sometimes it may not work. This is why choosing the right air-conditioning installer and an air-conditioner brand is important as it would help you to save the trouble and money in the long run. Panasonic air-conditioning in Singapore is able to withstand the heat and continuously provide cooling comfort for you and your family. It is built to be durable and designed to operate effectively in your home or office. As mentioned earlier, this does not mean that you do not require any servicing at all. By neglecting such regular care, you may also require Panasonic aircon repair services to fix your air-conditioner. Regular servicing is still required to ensure your units are clean, as well as getting an aircon company to inspect the parts and ensure there are no major problems with the cooling units.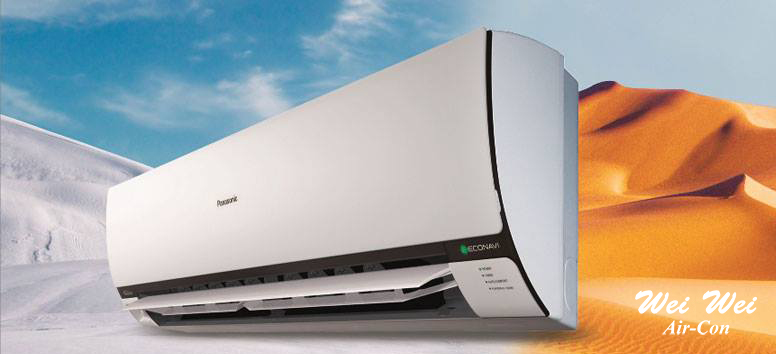 5. Panasonic nanoe™ technology
Air pollution does not only applies to the outdoor environment. Indoor air pollution is equally important as well, with an increasing amount of people spending more time indoors. Thus, indoor air quality is also important and everyone should be concerned and aware of the indoor air quality.
Panasonic's nanoe™ Technology is one of the innovative technology advancement in Panasonic air-conditioner system. It aims to purify the indoor air, which deodorises the growth of harmful substances such as bacteria and viruses. It is also effective in preventing the accumulation of dirt, dust and result in a cleaner and fresher indoor environment. This allows people to breathe in clean and fresh air even in their room or office. Thus, together with the emphasis on energy efficiency, this requires a minimum amount of energy to function, and you do not have to worry about having a surge in your energy bills. Another interesting function is that it is able to continue purifies even when the cooling is turned off.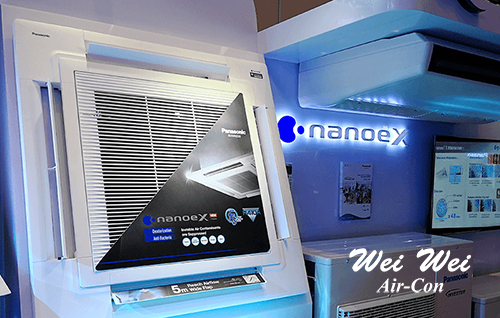 At Wei Wei Air-Con Engineering Pte Ltd. We are able to provide quality aircon servicing, repair and maintenance for your Panasonic air-conditioner in Singapore. Our staff are well-trained and experienced in performing repair or servicing works for your premises and we are able to solve your cooling needs.