Most people living in Singapore have the tendency to switch on their air-conditioners during the night to enjoy the cooling and comfortable environment. If you are wondering the benefits of aircon chemical wash in Singapore, we will be discussing some of the benefits it could bring to your air-conditioning system.
With the heat in Singapore, it is essential to ensure your air-conditioning units are serviced on a regular basis. Regular servicing is required to ensure your units are working properly and it will prevent the system from experiencing a major breakdown. It will also help to extend the lifespan of your air-conditioner system.
If you are hoping to get your air-conditioning serviced, you might be confused about the type of services you should go for such as aircon servicing or aircon chemical wash for your home among the range of services in Singapore. In Singapore, Wei Wei Air-con Engineering Pte Ltd provides a range of services including chemical wash, maintenance, and installation by our experienced and well-trained staff.

Below are some of the benefits of engaging chemical wash to your air-conditioning system.
1. Inspect different parts in the air-conditioner
The inspection is performed during the chemical process to inspect if there are any problems with the cooling system. The staff will be able to spot any potential problems and ensure these parts are in good working condition. This is often neglected as people would assume the units are working well and let the potential issues go unnoticed. To ensure the units are operating well, proper inspection of different parts is mandatory to detect potential problems early and get it fixed immediately. This will prevent major breakdown issues from occurring and could lead to unnecessary trouble to homeowners.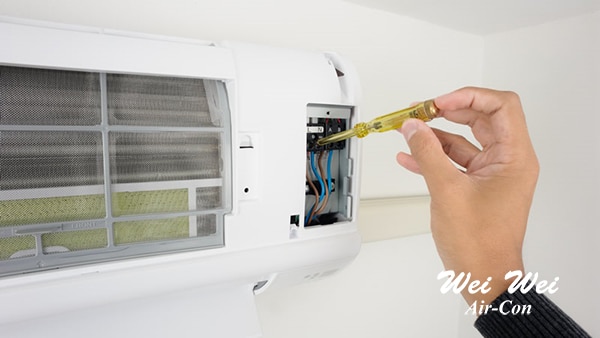 2. Removes the accumulation of mold
With the humid weather in Singapore, the build-up of mold and debris in the air-conditioning units are common among households. This could lead to other problems, including smelly aircon which makes people feel uncomfortable. It may also affect people with existing medical problems such as asthma or allergies. With the use of high quality products during the chemical washing process, it aims to remove all the mold, bacteria and debris that accumulated in the air-conditioning unit. The chemical wash of your air-conditioning not only remove these mold, it will also clean all the dirt and dust, which prevent such harmful substances from growing back any time soon.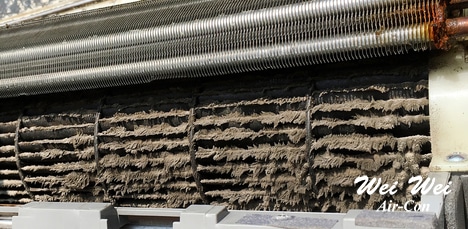 3. Increase energy efficiency
With the chemical wash being performed, it involves a thorough process where all the parts are washed with quality chemicals and washed thoroughly to ensure the air-conditioning system is clean. Thus, with the elimination of the dirt, dust, as well as fixing potential issues, it could increase the efficiency of the system and allow the unit to operate smoothly. With increased energy efficiency, it will be able to reduce the electricity bills in your house or office in the long-run.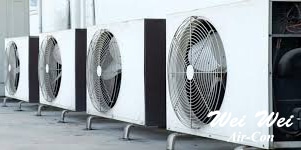 4. Increase operational lifespan
You may experience problems in your cooling unit such as strange noises or aircon not cold problems. It may not be the end of your air-conditioner as other benefits of aircon chemical wash is, it may be able to fix some of these problems and extend the lifespan of your unit. During a chemical wash, as mentioned above, the inspection process will check the parts in your air-conditioner and clean or fix it to ensure proper functioning of the system. This is important as it will prevent these problems from affecting the performance and operation of the unit. Thus, just like how a vehicle requires regular servicing, air-conditioner requires maintenance regularly to keep it going.
5. Clean air
With the constant use of the air-conditioner during days and nights will result in dirt and other particles accumulate in the air-conditioner units which could be harmful to breathe in such air. Clean air is extremely important for people who has allergies or experience asthma issues. Thus, chemical wash is important and able to clean all the dirty particles that have accumulated in the units. Through the thorough washing process, it will ensure clean air circulating around in your room and you and your family will be able to breathe in clean and fresh air. This will also lead to better performance for your air-conditioner.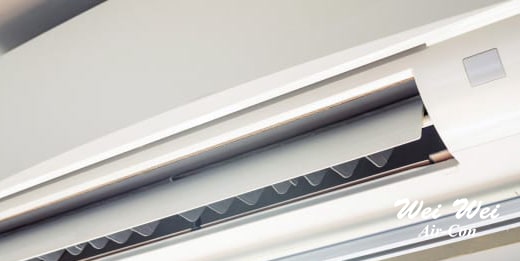 6. Remove bad smell
As mentioned above, the build-up of mold is common in Singapore due to the humid weather. This often leads to bad smelly air from your air-conditioner where mold is build-up or there are other bacterial particles or even dead insects or animals that crawled in the unit. If you happen to smell the awful stench blowing out of your unit, it may be time to have a chemical wash to get rid of this bad smelly air. Through chemical wash your air-conditioner in Singapore, it is effective in removing those dirt and mold, as well as reducing the possibilities for mold and other bacteria to grow.
7. Checking refrigerant
Another detailed inspection of your air-conditioning system includes the refrigerant. This step is important and it should always be done to ensure it is sufficient to keep the air-conditioning system running at optimal level. The chemical service of air-conditioning will help to ensure proper operation of the system and maintain good performance.
8. Reduce damage to your air-conditioner
By chemical washing the air-conditioning, it will help to reduce the chances of your air-conditioner experiencing damage or aircon breakdown problems. By maintaining your air-conditioning through chemical washing, it will prevent sudden breakdown problems which could be caused by the lack of regular maintenance. Thus, by cleaning your air-conditioning system thoroughly, it will ensure your units to run efficiently and greater performance.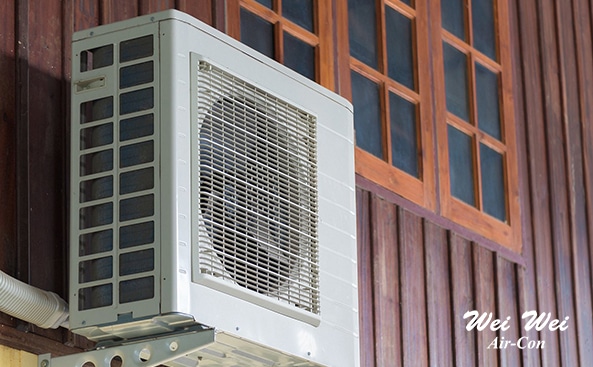 Chemical washing your air-conditioning requires a thorough cleaning process for your entire air-conditioning system, where it involves using quality chemicals to be rinsed and washed all the dirty substances in the air-conditioning. It is important to engage experienced contractors in Singapore that have many years of experience in performing this work.
Now that you gone through the above points, you should be familiar with the benefits of aircon chemical wash in Singapore. It is always important to engage regular servicing for your air-conditioning system and keep them in good working condition. Wei Wei Air-con Engineering Pte Ltd provides a range of services which are carried out by our experienced staff in Singapore. We have years of experience servicing and performing chemical wash for different models and brands of air-conditioning units in Singapore.