Singapore does not have the four seasons, spring, summer, fall or autumn and winter. However, it is under the summer season throughout the entire year, together with the high rainfall. This result in a hot and humid environment, often resulting in people being uncomfortable in both outdoor and indoor.  Getting an air-conditioner in your home or office is important to ensure everybody living or working here have a cooling environment. If you already have your air-conditioner installed, it is important not to neglect the importance of regular air-conditioning service by an expert in the air-conditioning field in Singapore. There could be signs that shows you require regular air-conditioner servicing, and you should be aware and not neglect it. There are many benefits of engaging regular servicing for your air-conditioning system, including increased efficiency, extending life-span and more. If you have never serviced your units for a long time, chemical washing your air-conditioner may be required to ensure optimal performance and many other benefits.
Now you understand that your air-conditioner requires servicing and maintenance, who should you go to? We will go through some of the common mistakes you should avoid when choosing the air-conditioning service company for your home or office.
Lack of regular maintenance
One of the most common mistake that Singapore household made is neglecting regular maintenance on air-conditioning or servicing contract that helps to clean and ensure proper operation of the system. Regardless which brand or type of air-conditioner you are using, it is unlikely that the units are able to perform at great cooling performance if it is not being serviced and maintained properly. Through regular maintenance, your air-conditioner would work optimally and reduce the possibility of experiencing aircon problems or even major breakdown. This could end up additional repair cost which could be prevented. How often you should service your air-conditioner depends on many factors including how often you use the unit and the environment. For average households in Singapore, it is best to have quarterly servicing for your air-conditioner.
Furthermore, the lack of regular servicing would not only result in problems surfacing, it is also detrimental to the life-span of your system. This would end up spending unnecessary repair cost to fix the problem or even require a replacement of your air-conditioner units. If you are experiencing common problems with your air-conditioner, you can learn more about the signs that require aircon repair services. Always remember to engage in servicing regularly to avoid major repair cost. Another benefit from servicing your units is increasing efficiency. There are many energy saving tips for your air-conditioning, which you can reduce the power consumption required and save on the energy bills.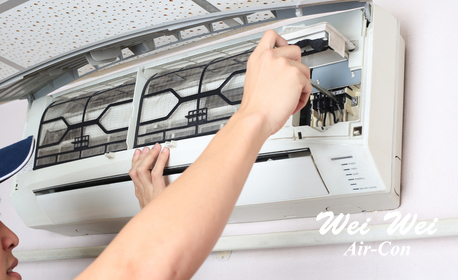 Engaging non-insured company
The reliable air-conditioning repair company that you engage should be insured for their work performed. This means that that damage in the property would be insured in the event anything happens.  If you happen to engage a contractor which is not insured, this implies that any damages on your air-conditioner due to negligence would not be covered. This could be due to the lack of inexperienced technician and you could end up with malfunction unit and require additional repair to fix it. This will cause you to incur additional expenses to repair or replace the unit instead. Hence, you can always avoid this by engaging a reliable and insured contractor with experienced staff to perform the job.
Selecting an air-conditioning service without sufficient research
There are many air-conditioning service company offering different services in Singapore. There are many services that are available that would match your cooling needs, such as an air-conditioning maintenance contract. However, you should always understand the service that would best match your air-conditioning needs. Also, price may not be the determinant factor that would determine which company you should select, as there are many areas that you should consider as well. Some of the areas you should consider includes years of experience of the technicians, quality of service and after-service support. All these would help you to decide the best air-conditioning servicing company for your home or office. Also, for air-con maintenance package, it is best to choose the package that is most suitable for your cooling needs. Different households have different cooling needs and may require different service to ensure proper operation of the air-conditioning system. Hence, always seek for advice from a reliable company that could understand your cooling needs and provide you with the best service. You can also do more research on the service that you require and search for an experienced air-conditioner company to perform the service and maintenance for your room.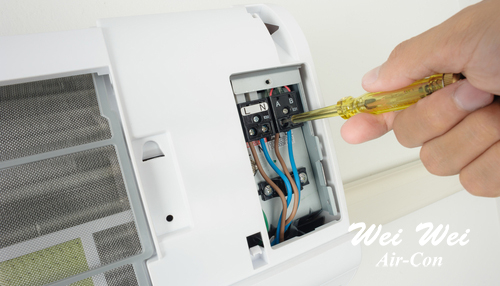 Unlicensed air-conditioner service company
Whenever you engage a company in air-conditioning service for your home or any other appliances services, it is important to ensure that the company is licensed to operate and perform the service. A licensed company carries many responsibilities in ensuring proper service is performed, including technicians are skilled to perform the servicing or repair. This ensures the technicians are well-trained and follow the appropriate procedures while performing the work. By engaging a licensed company, you will be sure that you are liaising with an experienced technician and not a novice. The unlicensed company generally charges lower prices to attract customers, however you may have to bear the risk of engaging an unlicensed company such as not able to provide quality services or support when issues happen. Hence, you ought to avoid engaging an unlicensed company for your service or repair as it may lead you to more problems in the future and not able to get prompt service when needed.  There are some tips that you can follow when hiring an aircon maintenance company in Singapore.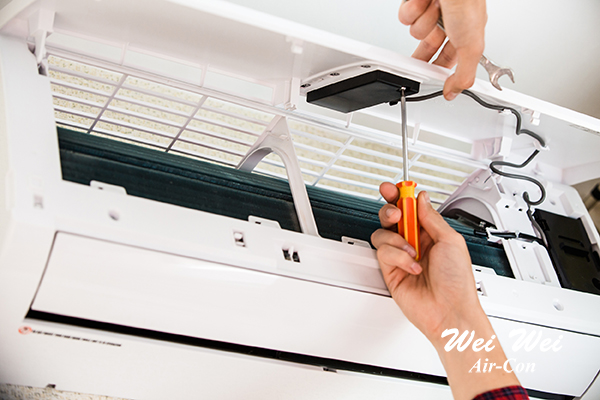 Now that we have gone through some of the common mistakes that people made while engaging maintenance company, you should be aware of these mistakes and avoid them. If you do not want to commit those mistakes, you can speak to us anytime and we would be able to provide you with quality service that matches your needs. Wei Wei Air-Con Engineering Pte Ltd is a licensed company and our staff are experienced and well-trained in providing repair and maintenance services for your air-conditioner. You will be able to enjoy quality services such as servicing, chemical wash and repair from our dedicated team. Give us a call if you happen to experience any problems with your air-conditioning units.